A tale of the 'Fantastic Fox' from 1974, who was joined by the 'Fantastic Foxes' in 2015.
So if you think, and the world of sport certainly does, that Claudio Ranieri's Leicester City, nicknamed 'The Foxes' Premier League triumph was possibly the sporting miracle of the last 150 years then I am going to try and persuade you that possibly you are wrong!
I have now been playing and photographing golf for almost 60 years and honestly this tale is without doubt the most impossible golfing fairy tale. By chance I was one of the lucky few to actually witness both stories in the flesh.
May 30th 1974 – I was a member of the ten man Leicestershire and Rutland County golf team heading to Hunstanton Golf Club in Norfolk for the Eastern Counties Foursomes. An annual gathering of nine counties to be played over the weekend in four sessions of 'sixsomes' golf. For the confused, and I am sure there are many of you who will be spluttering on your Glenmorangie trying to understand the meaning of sixsomes! It is quite simple really, each county pair play two foursomes matches at the same time so you actually played two counties at once in three balls hence the term 'sixsomes'. So over the week end in four sessions you play against each of the other eight counties.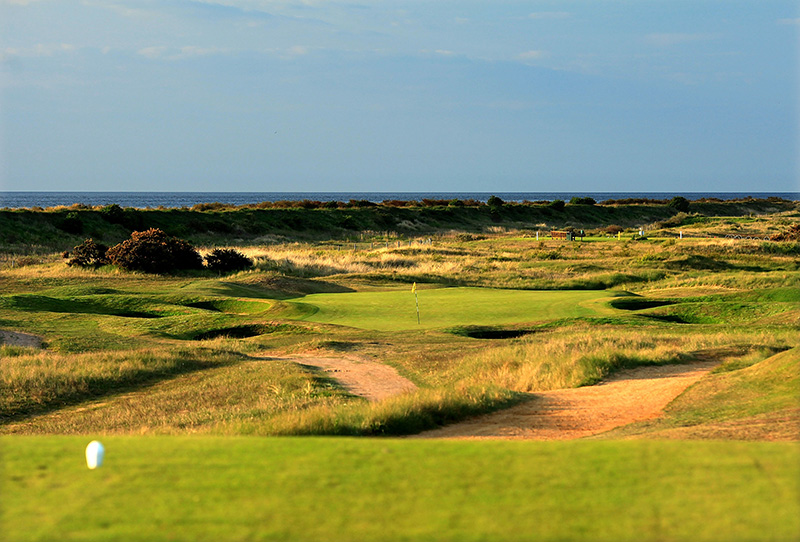 The afternoon of Friday 30th May saw the majority of us heading out for a practice round – normal procedure – play your own ball get used to the links and most of all the legendary fast greens. Late in the afternoon news filtered through that one of the Leicestershire squad had managed to hole in one on the 16th hole! Bob Taylor after his three playing partners had in his words 'ballooned their 4 woods short', played his two iron that he had bent to the loft of a one iron into the face of the stiff Easterly breeze which had landed on the apron and scampered into the hole. Holes in one are so rare so a natural celebration followed and we all, well most of us eventually headed merrily to an early bed with 36 holes to follow on the next two days.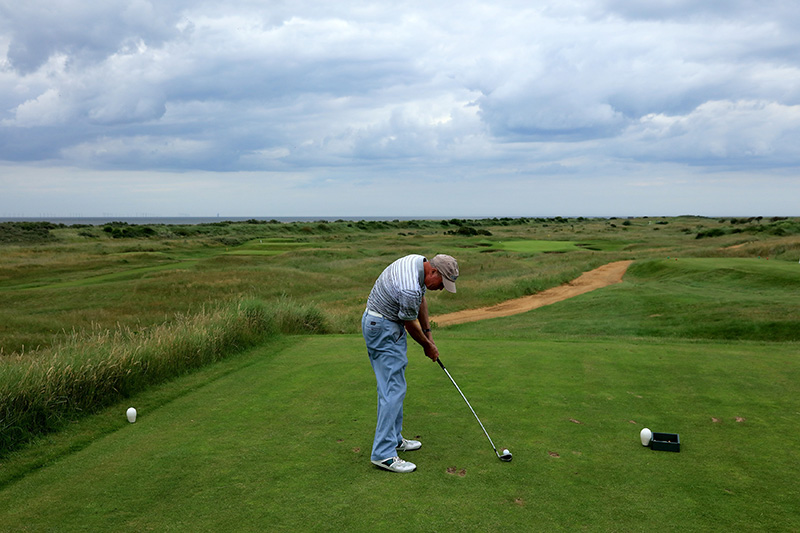 Saturday the 1st of June – saw the links shimmering in high summer sunshine when the morning matches concluded and we headed for a brief lunch. A natural interrogation of Bob Taylor as to how he had played the 16th hole that morning was met with a response that the wind had changed completely and he had used his six iron and that his ball had again landed on the apron and actually had caused great excitement as it shaved the hole and finished at the back of the green. I could not imagine how excited I would have been watching my ball heading straight for the pin again after an ace the afternoon before. Well it was not to be, that is, it was not to be until late on that Saturday afternoon as Bob again teed it up on the 16th hole with his trusty six iron again. The same swing, the same shot, the same landing point on the apron, then wonders of all wonders the ball disappeared into the hole for his second hole in one on the 16th hole – twice in two days – beyond belief – incredible celebrations! The whole afternoon and evening turned into a whirl of congratulations, incredulous disbelief and fantastic realisation that we had indeed witnessed one of golf's best hole in one achievements. One of the Leicestershire team at dinner wagered Bob 1 Million to 1 on a penny that he would not repeat his feat for a third day in a row – a tidy £10,000 wager. After much derision from us all around the table at the paltry 'penny' wager they shook hands on 25p at a million to one. I don't imagine either of them lost any sleep that night over the potential of that bet ever having to be settled.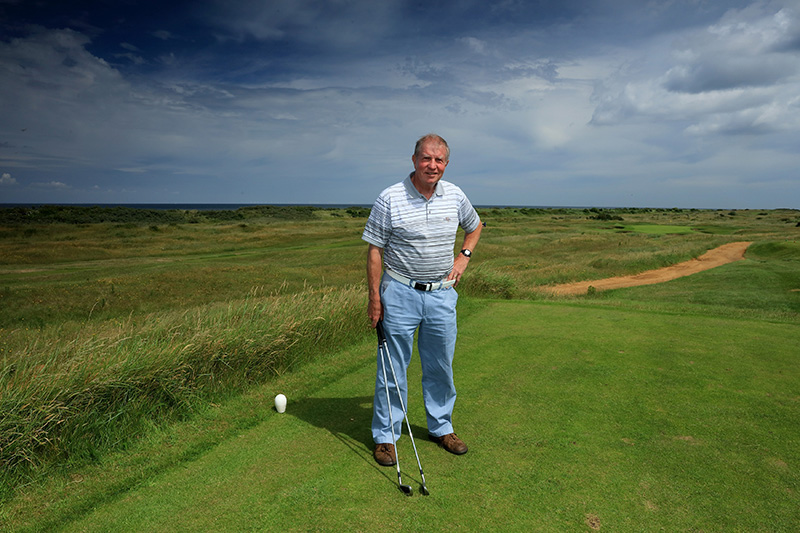 It is rather like I cannot imagine any of the bookies or fans who engaged in bets on Leicester City winning the 2015-2016 Premier League title at 5000 to 1 lost any sleep at all till at least Christmas! In fact I am sure the bookies if pushed would probably have given 10,000 to 1! But just as little bit of fun I made a call to Paddy Power himself and put the scenario to him – 'a low handicap player had two holes in one on the same hole at Hunstanton a championship links course on the 189 yards par 3, 16th hole on consecutive days. Given the huge odds of that achievement on its own I enquired what odds would you give me for a third hole in one on the Sunday? Given that would in all probability mean two more shots on this really rather tough short hole. I was met with a rather stunned silence followed by an adding up of the chances bookies as a rule give 10,000 to 1 on an ace – but he said it was almost impossible to equate but he would have been totally happy to have taken at least 100,000 to 1 and would probably have been pushed higher.
So Sunday 2nd June 1974 – dawned and Bob and his partner Bill Ridgeway did not spoil the party and how could they? It was decided quite naturally that Bob should again take the tee shots on the even holes – how could Bob possibly turn down the chance of a quarter of a million pounds pounds? In the morning matches their games were still alive as they reached the 16th hole. A not insignificant gallery had gathered to see his shot sail right of the green and our man on the million to one bet was breathing easily still as we gathered for a quick lunch.
The afternoon matches saw Bob and his partner standing on the 16th tee yet again. Bill advising Bob that a half on the hole would see them win their match against Suffolk. So Bob Taylor stood on the tee facing that tee shot for the fifth time in 48 hours, with again a not insignificant gathering of interested spectators. One hundred and eighty-nine yards downwind, smooth swing, lovely strike, pitch on the apron a couple of decent bounces, an almost unerring roll towards the hole and the next thing we knew Bob and Bill were shaking hands with the Suffolk pair on the tee as his ball had found the hole in one shot again. Three times, five shots, in three days and three aces on the same hole! The yells and applause could probably be heard for miles around, and the celebrations continued long into the night.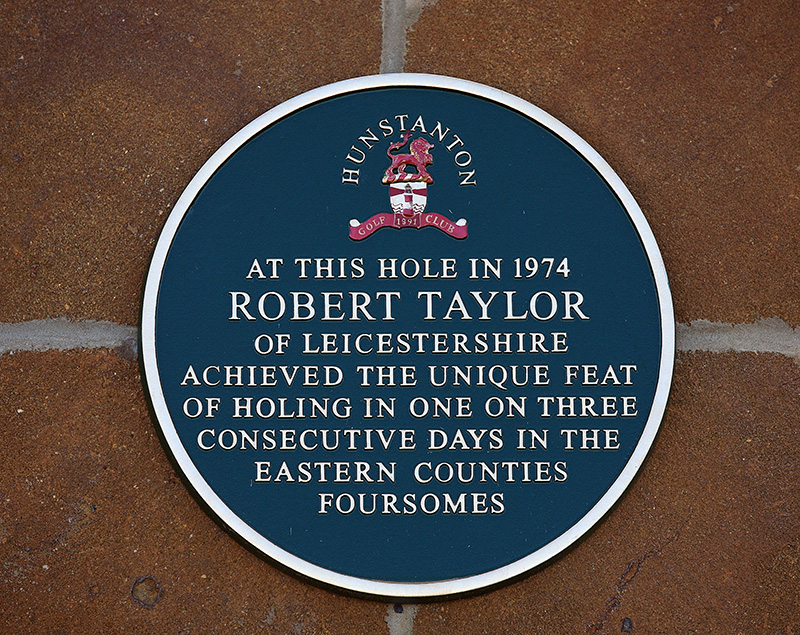 We had witnessed the greatest hole in one feat of all time, probably one of the greatest golfing stories of all time. For me personally it is one of my favourite stories to tell, and I have seen golf in all parts of the world. Whenever I recount this story no one can believe that it happened. I remember telling Gary Player this story after dinner at his farm in South Africa and one of the greatest story teller in golf was lost for words and made me go through the story again. It shows miracles do happen, and luckily enough I was a member of that Leicestershire team and did actually witness one of the shots from the 17th tee in the match in front, a moment I will treasure always.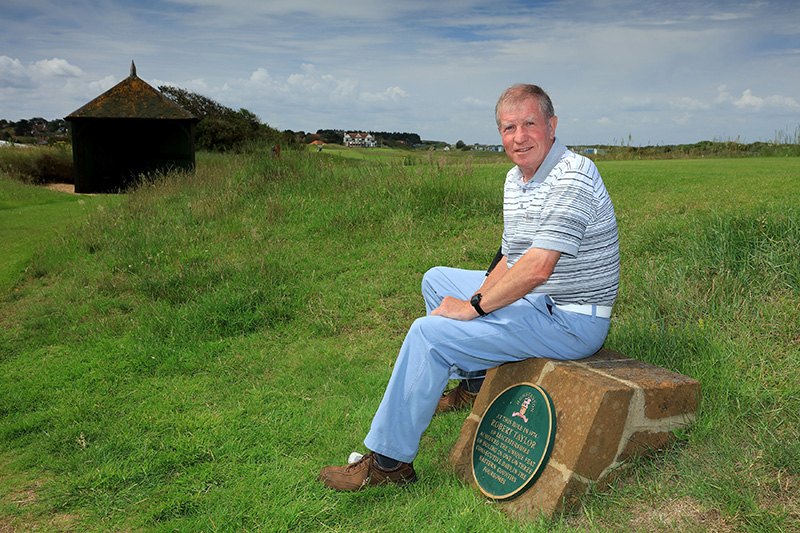 Leicester City won the Premier League at 5000 to 1, Bob Taylor a Leicestershire County player holed in one three days in a row on the same hole with odds of at least 100,000 to 1 and he is still owed every cent of the £250,000 he was owed for his one million to one bet that Saturday night!
His only treasure from that momentous feat was a dozen Titleist golf balls from the President of the Cambridge Golf Union who happened to be the Chaiman of Acushnet in the UK, some silver from his home club Scraptoft in Leicester and the wonderful stone memorial on the tee at Hunstanton. To me though he has left us all with a truly fantastic story – Claudio Ranieri's 'Fantastic Foxes' joined the 'Fantastic Fox' in giving Leicester two of the world's greatest sporting miracles! I can only imagine what the world may have thought of this story if this had happened during a summer in the modern digital age and not 42 years ago when there was no such thing as a mobile phone or the internet.